march 2020 newsletter

spring has sprung

and the vineyard is busy…

Dear Friends,
We hope you and your families are healthy and well in these trying times. Our Sonoma tasting room is currently closed as a health and safety precaution, and our April and May events have been canceled. However, our online boutique remains open, and we continue to deliver Mila Family Wines directly to our customers' doorsteps.
In the vineyard, much has changed since late October, when we sent you our Kinkade Fire update. Our wine farm was singed around the edges, but overall, our vines have bounced back and are as healthy and strong as ever. We attribute this to our meticulous farming and our use of biodynamic practices, which strengthen the vines' natural defenses and encourage regeneration.
Now, the vineyard is green again… or, actually, it's green and yellow again, thanks to the mustard flowers blooming between our vine rows. Mustard seed is part of our cover crop mix. After harvest, we till and plant every other row with a seed mix, including clover, peas, oats, and mustard, that renders blossoms in springtime.
They're beautiful, but they are there for another reason. In fact, they make it unnecessary for us to use herbicides, pesticides, and chemical fertilizers, by crowding out weeds, creating habitat for beneficial insects that feed on less-desirable bugs, and enhancing the soil with natural nitrogen. They also create competition for our vines, forcing them to send their roots deeper.
This ultimately makes the plants stronger and healthier.
Legend has it around here that a 19th-century Spanish priest brought mustard seed to this part of California to mark the trails between mission churches. Whether that's true or not, we like the paths that these beautiful yellow blooms mark between our vine rows every spring. Just as the blossoms begin to fade, we know it's time for our spring release (which is next week!)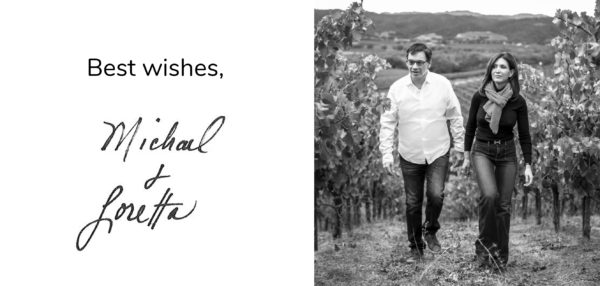 _______________________
what's on loretta's sonoma table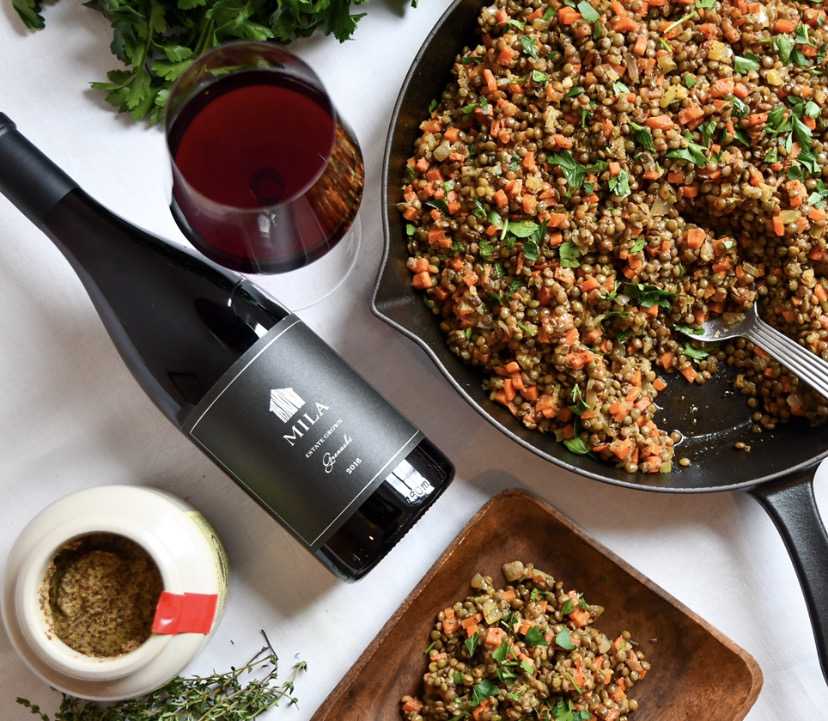 Those yellow blossoms bring to mind Loretta's French lentils, which get their zing from an artisanal mustard vinaigrette. Her recipe was inspired by the delicious warm lentils we dined on at the legendary Chez André. This brasserie has been serving classic French fare just off the Champs-Élysées—in the so-called "Golden Triangle" of Paris—since 1936. Loretta serves her lentils just as they were presented at Chez André: alongside sole meuniere.
For a print-friendly version of the following recipe, click here:  RECIPE
Warm French Lentils with a Mustard Vinaigrette
Serves 4-6 (hearty side dish)
2 cups French green Le Puy lentils, rinsed well
2 bay leaves
4 teaspoons salt
1 medium onion, finely chopped
3 medium-to-large carrots, diced (1/4-inch pieces)
3 celery ribs, diced (1/4-inch pieces)
3 large garlic cloves, minced
4 teaspoons fresh thyme leaves, chopped
1 teaspoon black pepper
1/2 cup plus 3 tablespoons extra-virgin olive oil
1/4 cup red-wine vinegar
4 tablespoons Pommery Moutarde de Meaux or other whole-seed mustard
2 tablespoons maple syrup
1/4 cup finely chopped fresh flat-leaf parsley
Cover lentils with 2 inches water in a 2- to 3-quart heavy saucepan. Add bay leaves and bring to a boil, then reduce heat and simmer, covered, until almost tender, about 12 minutes. Stir in 1 teaspoon salt, then continue to simmer, covered, until tender but not falling apart, 3 to 5 minutes.
While lentils simmer, sauté onion, carrots, celery, garlic, thyme, 2 teaspoons salt, and 1/2 teaspoon pepper in 3 tablespoons oil in a 12-inch heavy skillet over medium heat, stirring occasionally, until vegetables are just softened, 7 to 9 minutes.
To prepare vinaigrette, whisk together vinegar, mustard, maple syrup, and remaining 1 teaspoon of salt and 1/2 teaspoon of pepper. Add remaining 1/2 cup oil in a slow stream, whisking until blended well.
Drain lentils in a colander, discarding bay leaves, and return to sauté pan along with vegetable mixture. Gently mix in the vinaigrette. Cook over low heat, stirring, until heated through. Just prior to serving, stir in chopped parsley.
_______________________
notes from the cellar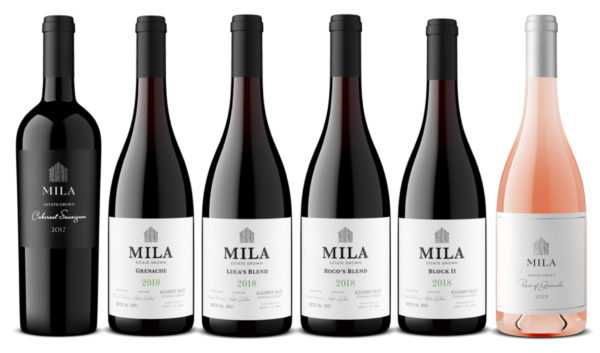 For winemakers, bottling day is never fun. Something always seems to go wrong with the bottles, the corks, the foils, or the labels. You would not believe how difficult it can be to coax a rectangular label to stick flat and straight to curved glass!
The process is more or less automated, thankfully. We use a mobile bottling service: a large truck that pulls right up to the winery. It's loaded with equipment that fills and corks the bottles, then applies the labels and foils. This machinery isn't easy to calibrate and operate, however, and after you've spent years farming your vineyard and making your wine, it can be incredibly frustrating when the labels go on crooked.
The best way to resolve this problem is for everyone on the bottling line to blame everyone else. Then we start over.
Michael is happy to report, however, that he and the team recently finished bottling our 2018 Grenache, 2018 Luca's Blend, and our 2018 Block II Grenache —what do you think of the new label design?—as well as the 2019 Rosé, and the bottles are looking good.
_______________________
learn our language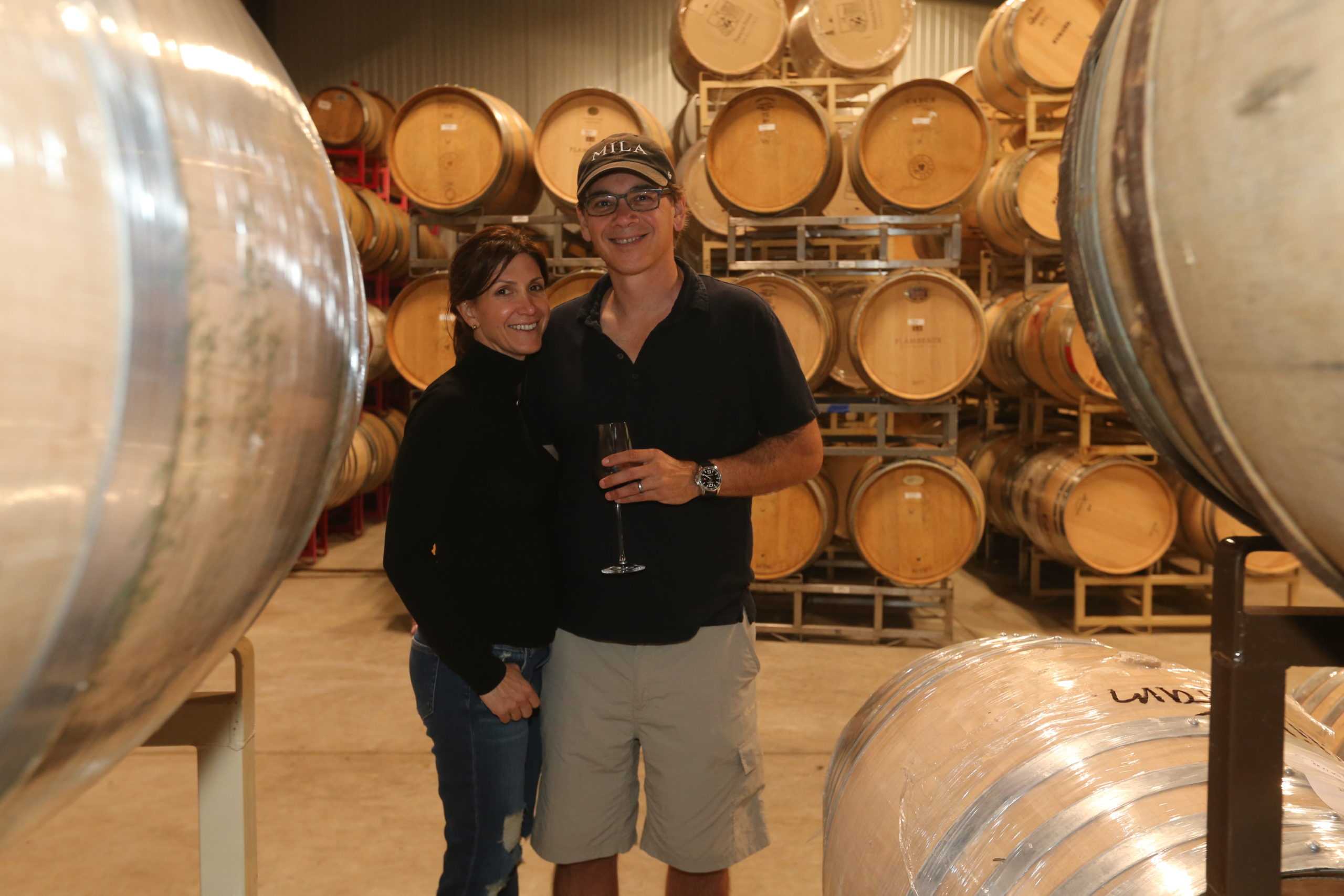 Speaking of bottling makes us think about fining, filtering, and racking.
Fining is the process of adding a coagulating agent, such as egg whites, to the barrel or tank. The fining agent attracts unwanted particles—which may be causing an astringent flavor, off odor, or brownish color—and is then removed. "Filtering" refers to the use of microfilters in order to improve stability and clarity.
We see fining and filtering as corrective procedures that strip wine of its natural texture and aromatics. We would rather make wines that are alive, nuanced, and rich in character.
We also like to leave our wine on the lees (that is, spent yeast that falls to the bottom of the barrel after fermentation) for as long as it's in the barrel. This is a somewhat unusual practice among red winemakers, but we like the way the lees soften the tannins, creating a silky texture.
So when it's time to bottle, we don't fine or filter, but we do rack the wine—something that other wineries tend to do more than once, and much earlier in the process. Racking is the fine art of removing the lees by allowing the sediment to settle to the bottom of the barrel or tank, the siphoning the wine off the top.
So if you see a bit of sediment in your bottle, keep in mind that we choose not to fine or filter. We practice Old World winemaking in the classical style, and our wine reflects the timeless traditions that we choose to follow.
_______________________
in the news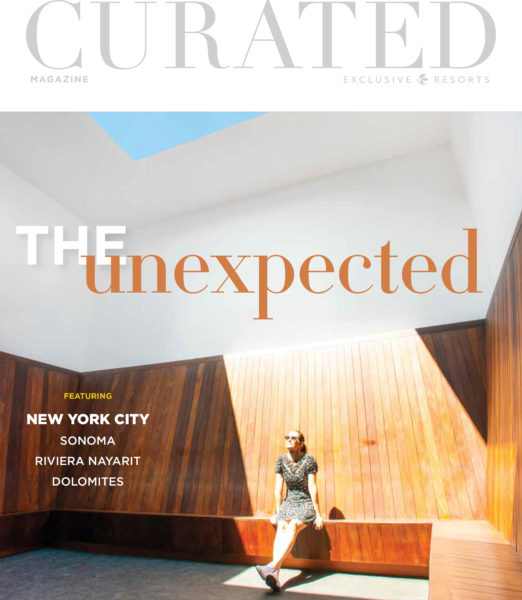 Mila Family Vineyards was recently featured in CURATED, the magazine for members of Exclusive Resorts.
Thanks to journalist Mark Ellwood for highlighting the many years of research and careful biodynamic farming that have gone into our vineyard.
_______________________
events
Note: Our April and May events have been canceled due to the Coronavirus outbreak.
March 31: Mila Family Vineyards Spring Release (online)
August 21: Winemaker Dinner, Firestone Country Club, Akron, OH