april 2020 newsletter

a time for growth
Dear Friends,
After the Kincade Fire last autumn, we weren't sure how much damage our vines had incurred. By the time the smoke had cleared, it was mid-November, leaves were falling to the ground, and the vineyard was entering its period of winter dormancy.
Spring arrived early this year. As the soil warmed in late February, we watched our Sonoma vineyard with trepidation as the roots of the vines awoke—or didn't.
Fortunately, most of our woody vine canes sprouted tiny green florets, or buds, which soon sprouted shoots and leaves. Bud break marked the beginning of the growing season, and thankfully the majority of our vines were developing.
Half an acre, we found out, did not survive the fire. We have pulled those bud-less plants out and replaced the rootstock. We'll wait another year to allow the new roots to establish themselves before grafting new vines onto them.
Now we watch as the tendrils grow, and the new leaves photosynthesize sunlight. We recently sprayed a natural mineral oil, called stylet oil, on the vines to deter mold; otherwise, our vineyard is healthy.
It feels to many of us like time is standing still right now. The vineyard, however, changes every day. While we're stuck at home, our vines continue to do their work, marking the passing of time, growing and evolving with nothing but sunlight and morning dew to feed them. Not all of our vines survived the fire, but those that did are the stronger for it.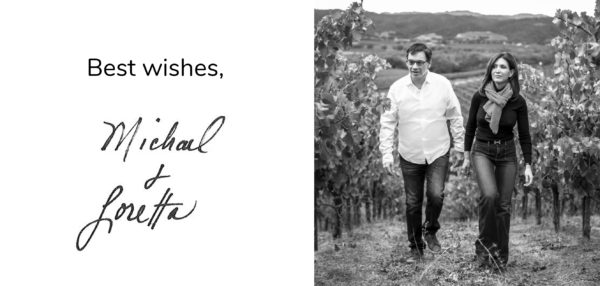 _________________________
what's on loretta's sonoma table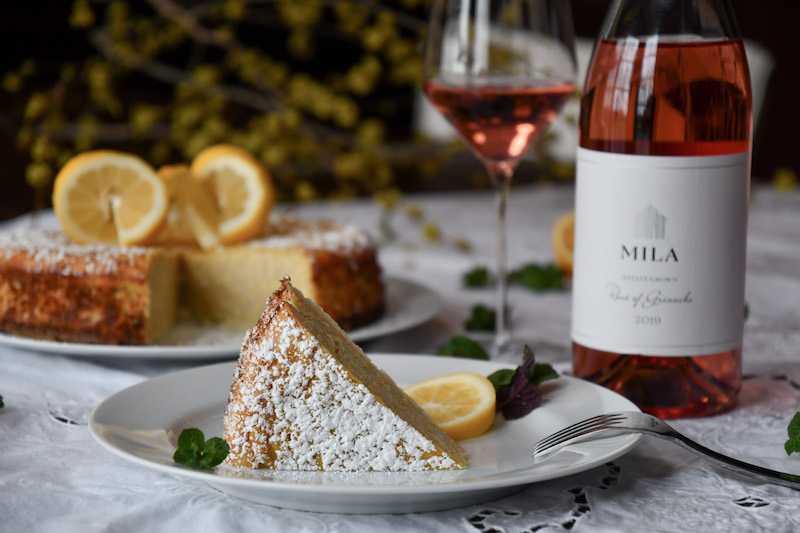 The boys and I visited my 90-year-old nonna (that's Italian for grandma) from a safe distance the week before Easter. A native of the southern Italian town of Baranello, she's the most cheerful, funny, dynamic woman we know. But on this visit, my nonna was disappointed—not about being quarantined, but about the fact that she hadn't been able to bake a pastiera for us to take home for Easter.
For as long as I can remember, I have looked forward to Easter dinner, and the annual presentation of the pastiera, a lightly sweet Italian rice pie with ricotta. As it bakes in the oven, the pastiera fills the house with intoxicating aromas of citrus and spice. It is the crowning achievement of a meal punctuated by ever-evolving family anecdotes and uproarious laughter.
There was no room for me in the kitchen growing up—too many strong personalities in there—so I never had the chance to learn the recipe properly from my nonna. Nonetheless, I did watch her preparing the pastiera as often as I could, and I was determined to recreate the family recipe from memory this year so that I could bring a slice to my grandma. I made a few substitutions and was pleased to find that the complementary flavors of almond milk, coconut oil, and rice-based flour integrated beautifully into this recipe.
As I worked, I thought of my grandmother, and all the family I am so fortunate to have around me. And as the oven filled our home with that wonderful scent, I realized that my nonna's annual ritual of baking the pastiera was an expression of her nostalgia for her native country and the family she left behind.
For a print-friendly version of the following recipe, click here:  RECIPE
One cake yields 8 servings
Base Crust (optional):
1 cup gluten-free flour (I recommend Cup4Cup), or all-purpose flour
1/2 teaspoon salt
1 teaspoon sugar
1/4 cup coconut oil
1 egg
1/3 cup water
Rice:
2 cups almond milk (I recommend Elmhurst), or whole milk
1 cup Arborio rice, rinsed well
pinch salt
3-4 strips lemon peel (cut into 1-to-1.5-inch chunks with a paring knife)
Filling:
6 eggs (room temperature)
3/4 cup sugar
1 pound ricotta
2 tablespoons lemon zest
2 tablespoons orange zest
1/2 teaspoon cinnamon
4 teaspoons lemon extract
1/3 cup candied citron, finely chopped (optional)
powdered sugar, to garnish
Preheat oven to 350 degrees and position rack to middle. Spray a 9 1/2-inch springform pan with nonstick spray and set aside.
Crust (optional): Combine flour, salt, and sugar with a fork. Smash and blend in coconut oil until crumbly. Add egg and mix until incorporated. Add water by stirring in 1 tablespoon at a time until dough holds together. Shape into a ball and place onto a sheet of floured parchment paper and cover with additional sheet of parchment paper. Roll out crust and lay it into the bottom of your pan, using your hand to flatten and stretch it to size, and trimming edges to just fit. Pre-cook crust for 6-8 minutes to set.
Rice: Combine almond milk, rice, salt, and lemon peel in a saucepan over medium-high heat. When milk begins to boil, reduce heat to low, cover slightly, and stir occasionally until mixture begins to thicken, approximately 6-10 minutes. Remove lid and stir constantly, approximately 5 minutes longer, to prevent milk from sticking to bottom of pan. Remove from heat when rice is cooked al dente; it will continue to cook in the oven. Remove lemon peel. Set aside and allow to cool.
Filling: In a large stand or hand-held mixer, beat the eggs until light and frothy. Gradually whisk in sugar and beat for 1-2 minutes more. Add ricotta, zests, lemon extract, cinnamon, and citron (optional). Whisk until incorporated. With a mixing spoon, gently add cooked rice, breaking up any clumps.
Add mixture to baking pan over par-baked crust and place on a sheet pan. Bake for 10 minutes at 350 degrees. Reduce temperature to 325 degrees and bake approximately 50 minutes longer. When edges of cake are firm and center jiggles slightly in the middle, remove pan from oven and set aside to cool. Sprinkle powdered sugar over top to garnish. This dish can be served warm or chilled.
_________________________